Mood
design with a metal touch
Technical information
Download pdf
of this model
This model is designed on the basis of new and higher-quality standards. The excellence of plastic materials combines with the fine metal details, the result of superior quality craftsmanship, such as the diamond mirror finish. There are three finishes available for the metal details: chrome, gold and rose gold. Mood aspires to exclusivity, and is unique in its kind, also for the lavish Colour Palette available. The "Parker type" refill completes the features of a pen that evokes a discreet luxury, without ostentation.
Available in recycled plastic for orders over 10,000 units.
1/4
Details
Details of the pen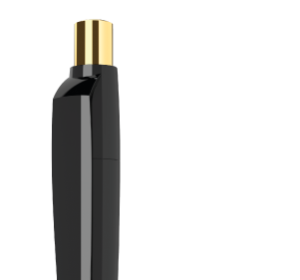 Metal details with diamond mirror finish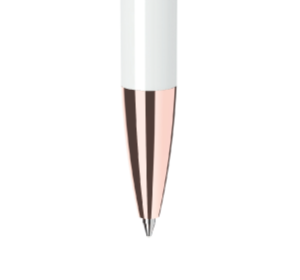 Rose gold, in line with the colour trends of the moment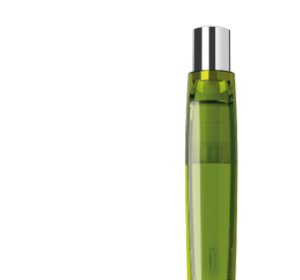 Result of superior quality craftsmanship
2/4
Models and colors
Available in 6 models and 88 color variants
3/4
Technical information
Print areas and tech specs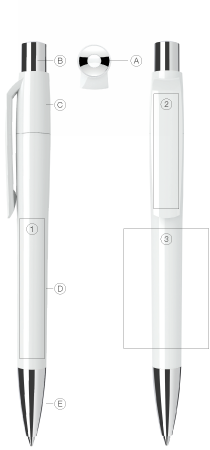 Features
● retractable with return spring
● made of non-toxic, highly resistant ABS plastic
● metal tip and push-button, individually processed with diamond mirror face finish
● "Parker type" refill, blue and black ink
● available in glossy or rubberised finish
● rubberised barrel versions are only printable on the clip
Modularity
you can combine differently coloured parts from the same version (or code number), or elements from different versions
A little sphere
B push-button
C clip
D barrel
E tip
Print areas
1 pad printing 46 x 9 mm
2 pad printing 40 x 9 mm
3 screen printing 40 x 30 mm *
* Not available for the following versions:
- MD1 - GOM CB M1
- MD1 - GOM C M1
- MD1 - GOM 30 M1
4/4
Customisations
The brands mentioned in this catalogue are the exclusive property of the respective owners. They are used for purely illustrative purposes and cannot be the object of any buying and selling transactions, under any circumstances.