Ethic
elegance and flexibility
Technical information
Download pdf
of this model
Ethic is a pen that shuns trends and fashion, destined to last, together with the message is transmits.. Uncluttered, linear design with details that make this both a refined and flexible pen: its various components (tip, barrel, rings and cap), available in a wide range of colours and finishes, can be combined to obtain innumerable personalised solutions.
Available in recycled plastic for orders over 10,000 units.
1/4
Details
Details of the pen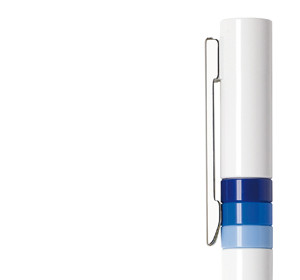 Tip, barrel, cap, push-button
and 3 rings available
in a vast range of colours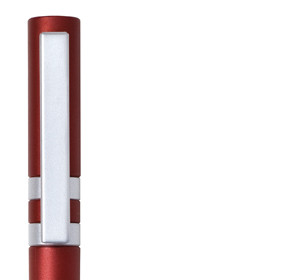 Refined, flexible design
for the most demanding brands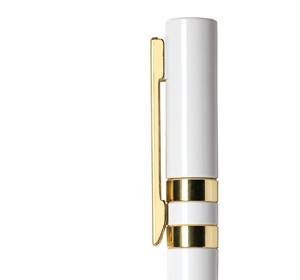 The chromed or gilded details
enhance the pen's elegance
2/4
Models and colors
Available in 12 models and 74 color variants
3/4
Technical information
Print areas and tech specs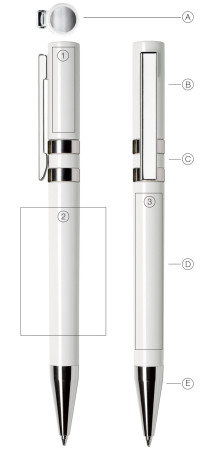 Features
● twist action
● made of non-toxic, highly resistant ABS plastic
● metal, chromed, gold or matt finish clip
● galvanic process used to chrome or to gild ABS parts
● Jumbo refill, blue and black ink
● available in glossy and metallic or aluminium painted finish
Modularity
you can combine differently coloured parts from the same version (or code number), or elements from different versions
A small cap
B cap
C rings
D barrel
E tip
Print areas
1 pad printing 30 x 8 mm
2 screen printing 45 x 30 mm
3 pad printing 55 x 9,5 mm
4/4
Customisations
The brands mentioned in this catalogue are the exclusive property of the respective owners. They are used for purely illustrative purposes and cannot be the object of any buying and selling transactions, under any circumstances.