As you like it,
as you are
Customisation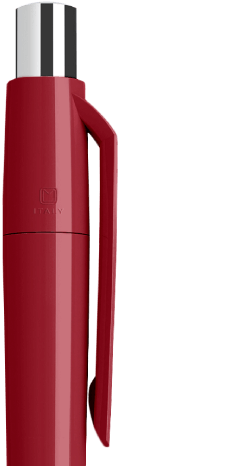 Imprint your brand
Once assembled, the pen is ready to be "dressed" with a brand or message, choosing the most suitable combinations between finishes, colors and printing techniques. At the end of the process, the pen is finally ready to bring its precious message: your image.

Packaging
Our My Case and My Box cases have been designed to enhance the product and best convey your message. Customisable on multi sides with high-quality pad printing, they are ideal promotional tools for fairs, press kits or gift sets.

Refill
Our refills were created to give your pen the stroke you prefer.
The tube is made of polypropylene and the inks are non-toxic and safe, compliant with the European regulation REACH and the American regulation TSCA.

X-20
· tungsten carbide ball Ø 1 mm
· lenght 107 mm
· for up to 2000 meters of writing

Jumbo
· tungsten carbide ball Ø 1 mm
· lenght 107 mm
· for up to 2500 meters of writing
RT 90
on request
· tungsten carbide ball Ø 0,8 mm
· lenght 98 mm
· for up to 4000 meters of writing

RT 90
on request
· tungsten carbide ball Ø 1 mm
· lenght 98 mm
· for up to 4000 meters of writing

Fast dry gel
on request
· ball in titanium carbide (SS, TC), diameter 0.7 mm
· ball stainless steel
· lenght 98 mm
· for up to 700 metres of writing
Pantone
Are 28 not enough?
Maxema customises pens
with your Pantone color
It is possible to produce our items with Pantone colors.
Contact the sales office for information regarding minimum quantities and prices
PANTONE 1785 C
PANTONE 7709 C
PANTONE 180 C
PANTONE 3395 C
PANTONE 2655 C
PANTONE 1235 C
PANTONE 1785 C